This time we have found for you the 19 coolest ways to transform your hobby room into a neat and tidy room. In this article you'll find fun inspiration, DIY's and maybe some handy tips that you can use yourself to organize your hobby stuff!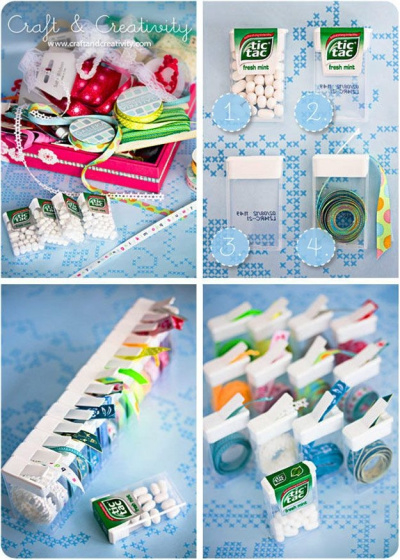 1. Using Tic Tac Boxes as Storage
This DIY is not only super fun to make but also very handy. All you need is an empty Tic Tac box. Take off the sticker and the top and put the ribbon inside. Now you can easily cut off a piece of ribbon and it looks great in your collection.
2. Storing Rocailles in Transparent Trays
An easy way to store your beads. These transparent containers are often used for glitter or other loose products but they can also be used for your bead collection. Because the round containers are transparent you can see exactly which beads are in it and they also fit perfectly on top of each other so you can stack them. You can sort them by color as shown in the picture above. This way you won't have to search for your beads for a long time.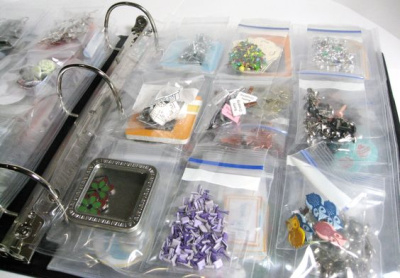 3. Storing Hobby Materials In A Folder
Another fun way to store your bead collection. Here we use a large ring binder with slipcovers for business cards. In the folder you can store all your beads. Make sure you put the beads in a bag otherwise they will fall out! Browse through the folder and admire your own collection. That way, all your beads are in one place and you won't lose them again.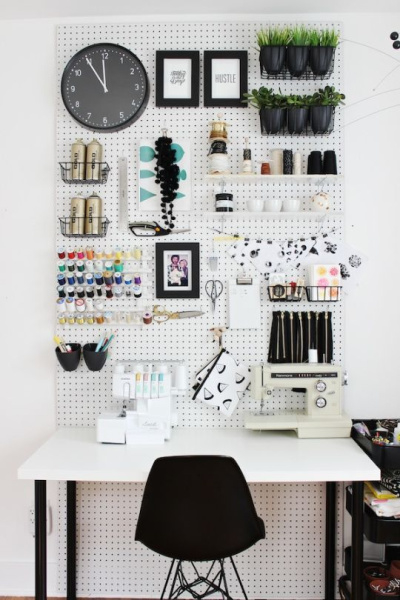 4. Using a Pegboard In Your Hobby Room
You have several pegboard options depending on your purpose. Want a stylish smaller board above your desk? At Ikea they recently launched a pegboard series with different ready-made accessories. Is it really meant to keep all your hobby stuff organized? Then choose a larger board which is normally used for tools. Do you prefer to make it yourself? Get a hardboard plate with holes at the hardware store and shop here for cheap loose accessories and hooks to arrange it completely as you want.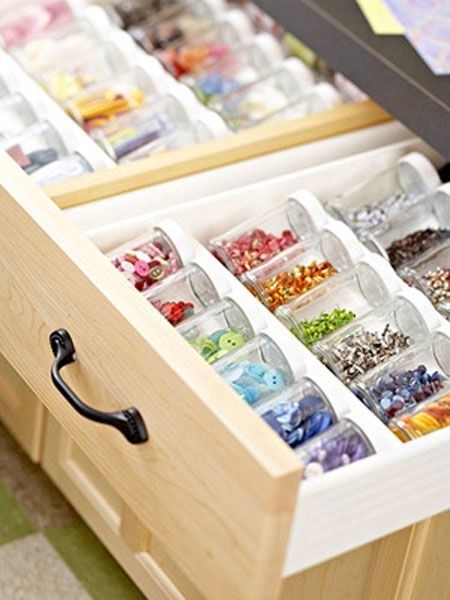 5. Storing Beads In A Drawer Cabinet
For a real collector this is a real must have. A drawer system often works best to store all your materials nicely. The beads are stored in convenient jars that fit into the drawer system. It looks a bit like a spice drawer only filled with beads.Many similar drawer systems can be found at IKEA.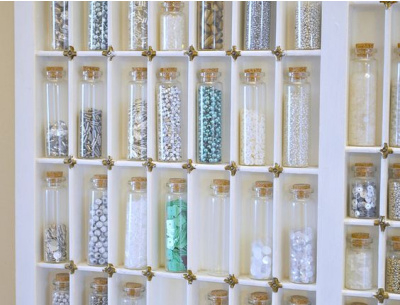 6. Storing Beads In Glass Bottles
A very cute way to store your beads. The beads are stored in different sizes of wish bottles and nicely presented in a cabinet where the glass bottles fit exactly. Maybe a fun challenge to make this yourself! It is not only very handy but also looks beautiful in your hobby room.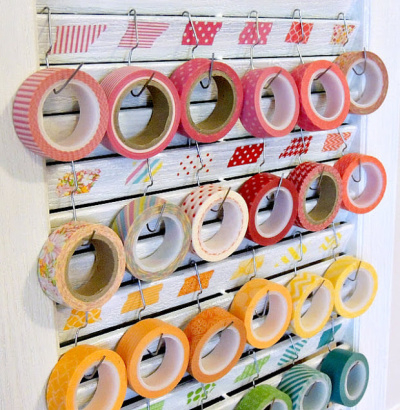 7. Washi Tape Neatly Stored
Something that can't and shouldn't be missing in a hobby room these days is, of course, Washi tape! This incredibly cute tape is available in a variety of prints and colors. But how do you keep all these tapes organized? In the picture above you can see how to store the tapes. By hanging them on these handy hooks they are not in the way and you are not spending hours looking for the right color. By sticking a piece of washi tape above the roll it also looks nice.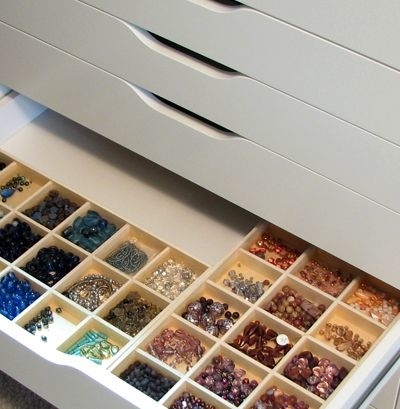 8. Using a beadcabinet
As with the previous picture, the drawer system is used again, but it looks different. Here we did not use cups but we put the products in handy organizers for drawers. This way you can easily remove the beads from the drawers. It might be handy to put the beads on a color and to indicate this with a sticker on the cabinet, so you don't have to open 10 different drawers until you find the right bead.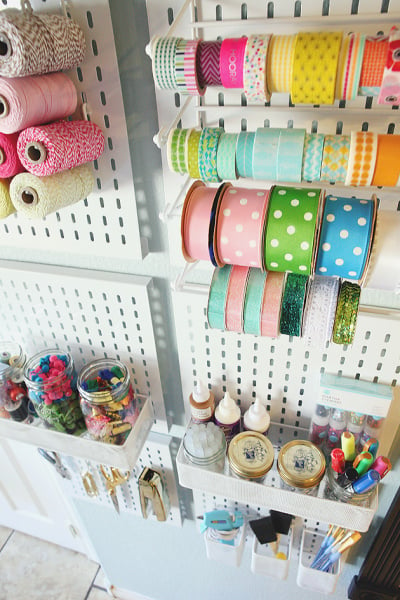 9. Using a Pegboard With Bins
Another very nice example of a peg board. Here you can clearly see how you can easily store tape with a peg board and other materials such as ribbon and cords. With this board, you can easily decide what you want to hang down and what you don't and there are thousands of ways to arrange this board.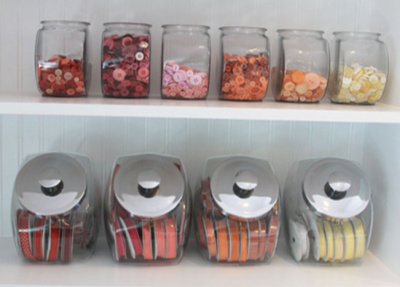 10. Neatly Storing Knots in Glass Storage Jars
These candy jars are also great to use for your hobby materials. The jars are available in many different stores and are easy to use. You can present the jars nicely by putting them in a shelf like the one on the picture above. It is also nice to arrange the jars by color.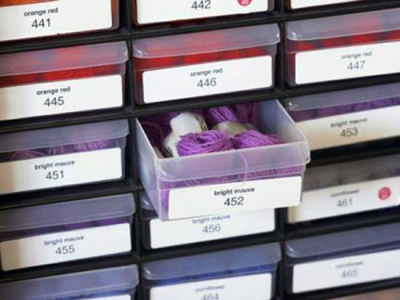 11. Wire And Embroidery Yarn Neatly Stored
What is also widely used is to store your products in this kind of chest of drawers. You can stack the cabinets on top of each other to create your own warehouse where all your products are stored. To make it even easier, you can put stickers on the drawers that say which product is in each drawer. You can brighten this up by using washi tape as stickers, so you don't have to search endlessly for the right product.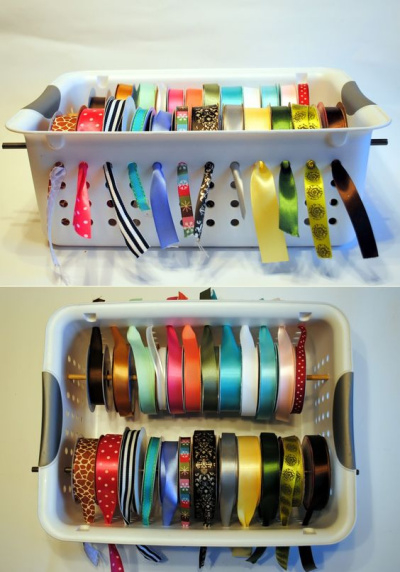 12. Storing Ribbons Neatly in a Basket with Holes
This handy organizing method requires very little space. All you need to buy is a basket with holes big enough for the ribbon. It is also useful to buy a bar around which the ribbons will later be pushed. The bar must fit in the length of the basket. Now you can easily put the ends of the ribbons through the holes and voila, never loose ribbons again and it's also easy to cut the ribbon!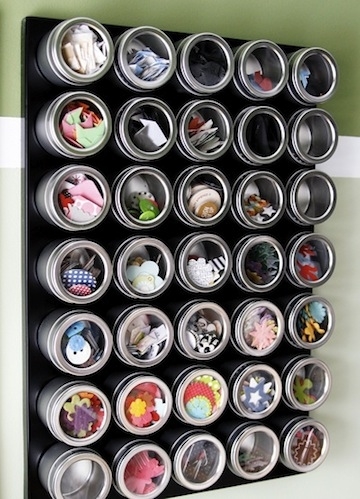 13. Using Magnetic Jars
Another great example to store your materials. This wall unit you hang against the wall so you can easily take out the materials. These magnetic metal cans have a transparent lid so you can see what's inside. You can put the product in it by turning the top side off and then close it again.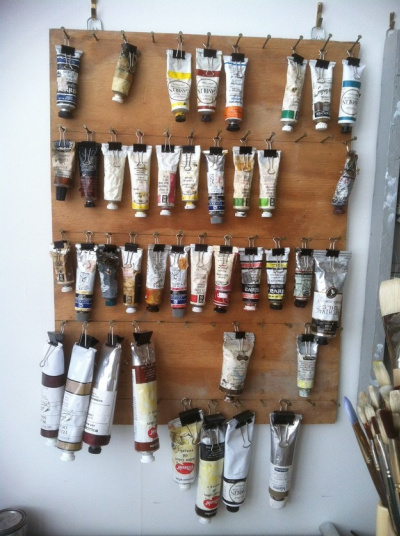 14. Paint Tubes Neatly Stored
For the paint lovers we have also found a nice way to store your paint tubes. The paint tubes are attached to black clamps and then hung on the nails in the wood. Super easy to make and you don't have to look long anymore for the right color.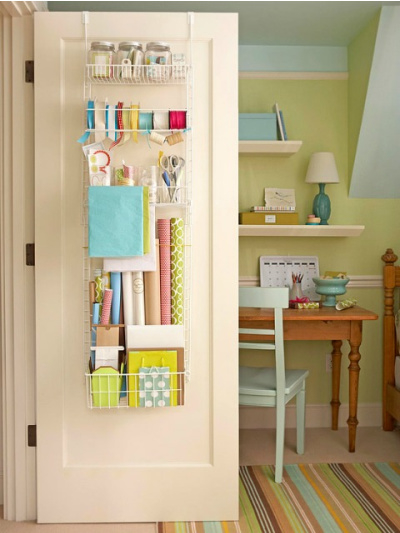 15. Using the Door as Extra Storage Space
Even if you don't have your own hobby room, there are lots of great ideas for storing your stuff. This is a great example of how you can do it and extra neat because you don't see the items when the door is closed. You have many different options, for example this door hanger with compartments or metal door hangers with hooks and shelves.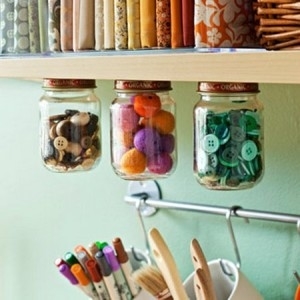 16. Attaching Glass Jars to a Shelf
Are you a little creative? Then you'll love this DIY. The jam jars are attached to the bottom of a shelf. You do this by screwing the lid of the jar to the underside of the board. This allows you to still lose the jar from the lid. These jam jars look very nice because you can still see the materials and they take up little space because on top of the shelf you can also put things!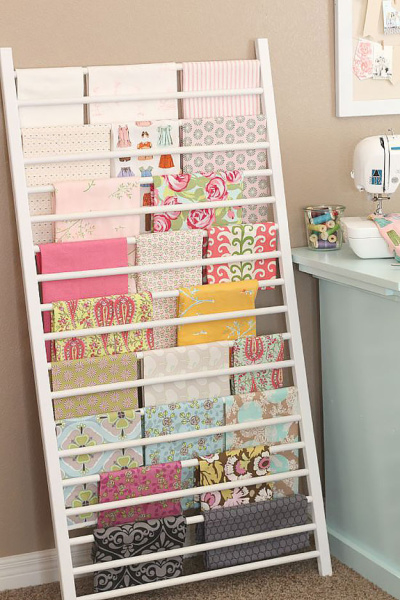 17. Storing Fabrics Neatly
Also looking for the best way to store fabrics? This is a perfect example! The rack is perfect for displaying all your best fabrics. You can hang the fabrics neatly on the rack, avoiding all the pieces of fabric lying around. Also, the rack is conveniently arranged so you don't have to knock over a pile of fabrics just because your piece is at the bottom.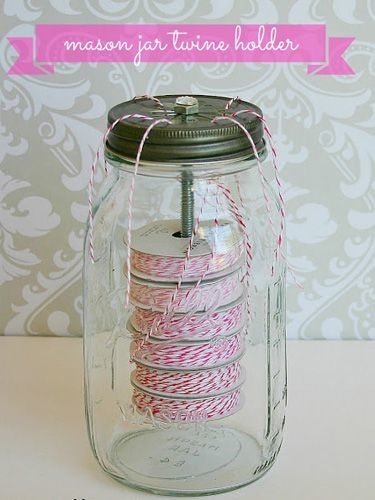 18. Using a Masonjar For Your Rope
They used this jar conveniently to store your thread. They placed a screw through the lid of the jar around which the pieces of thread are placed. There are also holes in the lid in various places for the wire to pass through. This idea makes it easy to cut off a piece of wire without the roll flying off in all directions.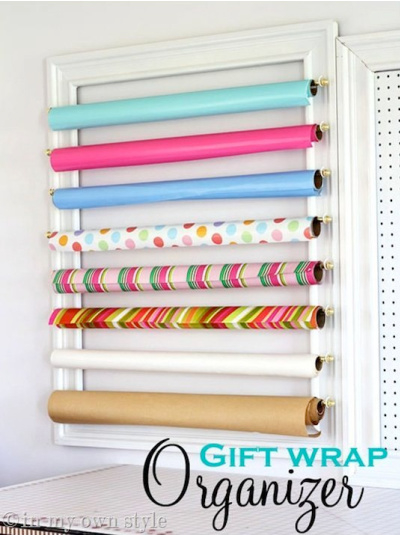 19. Wrapping Paper Neatly Stored
This handy wrapping organizer is indispensable to any hobby room. Now you have your own place for each roll of wrapping paper where you can conveniently access it. With this system, you can easily tear off your paper and use it immediately without the paper crumpling because it stays neatly in place.
What ideas are you going to try at home? Or do you have any good tips of your own? We always love it when you leave a comment 🙂