Woven beadloom bracelets are totally hot! And that's not surprising because you can endlessly vary and make them completely to your taste.
Would you like to get started making woven beadloom bracelets? In this blog you can read everything you need in terms of materials, beads, patterns and how you can finish these bracelets.
What materials do you need to get started?
To start weaving, you don't need many different materials. Moreover, you can use your weaving frame, glue, thread and needle over and over again. The miyuki beads you use for these bracelets are a bit more expensive than regular seed beads but you don't need many of them per bracelet. With a few different colors you can create very nice patterns.
Shop all the necessities to get started here >>
Woven beadloom bracelets are also called loom bracelets, this is because you make them on a Jewel Loom – or weaving frame. There are many different frames you can use but we have the best experience with the Jewel Loom of the brand Beadalon.
This is a weaving frame of very strong plastic where you insert a pin to bend it around a bit so there is tension on it. You can also buy wooden frames with pins that you can turn but with these frames you sometimes have the problem that after a while the tension is no longer good. You need the tension to be able to weave the thread tightly, so you get the best result.
Shop your Beadalon Jewel Loom for the weaving bracelets here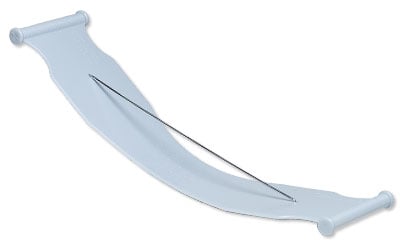 In addition to a weaving frame, you'll need special yarn and a needle. Use sturdy yarn with nylon in it so you can burn off the thread (carefully!). The nylon makes sure the thread melts a little so you can finish it off properly. C-lon thread is very suitable for this and you can buy it in many different colors.
Also make sure you have a good beading needle. These are special sturdy and super thin needles with which you can easily thread through small seed beads.
What beads do you use for woven beadloom bracelets?
Miyuki delicas are the most often used beads for woven beadloom bracelets. These Japanese beads are in the shape of small tubes and because they are all exactly the same size they are very suitable for weaving. The beads will lie neatly and tightly next to each other and so you can make beautiful patterns with them.
Besides delicas, miyuki also has regular round seed beads which can also be used for weaving. Below you see the difference: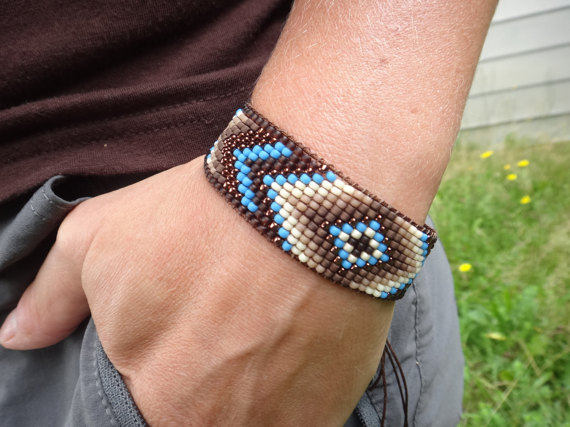 This bracelet from CreationSecondeNatur is made with the round Miyuki seed beads.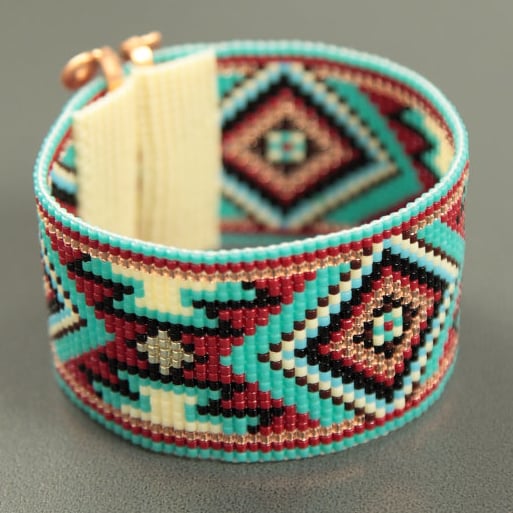 This bracelet from PuebloAndCo is made with the tubular Miyuki Delicas.
Which of the two you use, the seed beads or the delica's, is totally up to you, just what you like 🙂
Shop your Miyuki Seed beads and Miyuki Delicas here.
Video Workshop Woven Beadloom Bracelets
Below is a very comprehensive video on how to make these bracelets yourself. Everything is covered, from how to assemble your beadloom, how to stretch the threads, how to thread your first row of beads (which can sometimes be a bit of a fumble), how to connect and disconnect threads and how to finally finish your bracelet with a matching end cap.
If you've never made a woven beadloom bracelet before I definitely recommend watching this video, it has lots of useful tips and you'll see that once you've made one the rest is 10x easier. Beware! Once you master this technique it's very addictive 😉 .
Patterns for Woven Beadloom Bracelets
The great thing about this technique is that you can really make anything you can think of with it! Geometric patterns, hearts, name bracelets, aztec style, chic, summery…. On Pinterest I even spotted flamingo patterns and cities!
Check out our extensive Pinterest board with inspiration for woven beadloom bracelets here!
If you want to make a pattern yourself you can do that very easily with the following software: Go to BeadTool.net and download the software. In this program are miyuki beads in all colors and you have the option for loom bracelets and peyote stitch patterns.
Very handy are the mirror and copy options so you can make your pattern even faster. In the beginning it may take some trial and error, but you'll see that once you've mastered this program you'll be able to create the best patterns in no time!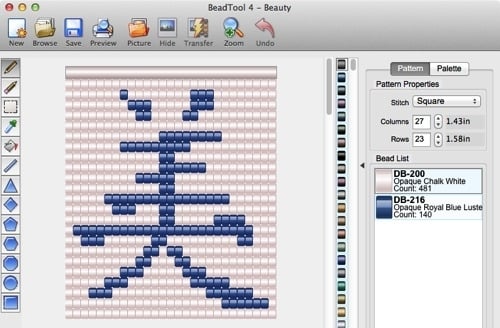 How many beads do you need for your bracelet and pattern?
If you use miyuki delica's 11/0 there are 6 beads per cm in length. For the right length you take the size of your wrist -2,5cm for the end caps and clasp. Suppose your wrist is 17cm then you need 14,5cm of beads. 14,5 x 6 = 87 rows (may vary slightly depending on how tight you weave).
Prefer ready-made patterns? We've already made a bunch of them that you can get started with right away 🙂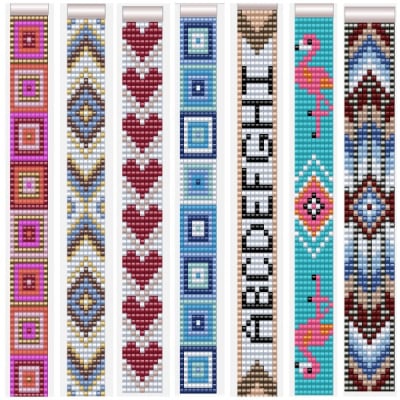 Want to get started right away?
At Beads & Basics you can shop all the materials you need to get started with the woven beadloom bracelets and of course we already made a few nice examples 🙂 .
How about this one?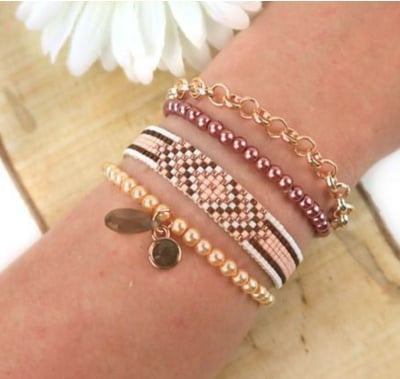 You can make the same pattern in endless color combinations 🙂
Shop the materials for this bracelet here >>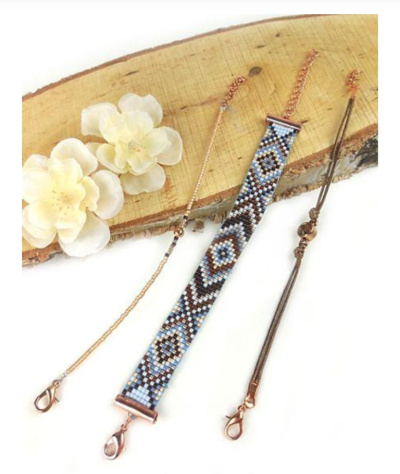 Shop the materials for this woven beadloom bracelet here >>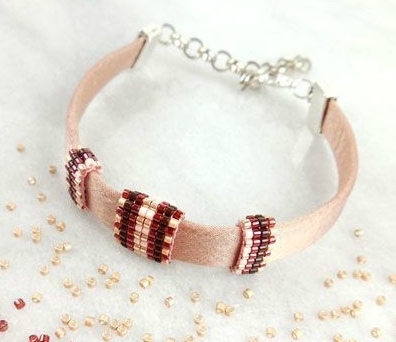 The weaving technique is not only fun to make complete bracelets with but also fun to make parts of them like this bracelet. Make your weave long enough to fit all the way around the bracelet, knot the ends of the threads together and slide the 'rings' around the silk cord (or leather).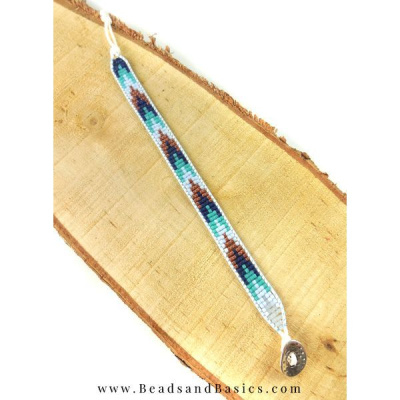 Geometric patterns are also super fun to make! And a bit less counting work than, for example, checks or chevron arrows, so ideal to start with 🙂
Shop all the parts for this bracelet here
What do you think?
Have you made woven beadloom bracelets before? Or will you start making them after reading this blog?
Let us know in the comments! We love to read it 🙂